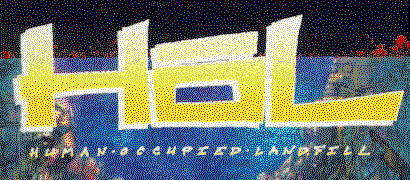 The Only Role-Playing Game where if you roll BoxCars (That's two Bonehead!), you get...
© Oh yeah, all these, and the following graphics/pics belong to the bastards who wrote/draw for/own HOL...
---
Disclaimer: All the following information about HOL is probably my own shit, which means I probably made it all up, therefore if you deem it fit for an addition into your campaign, or whatever you actually allow your players to do on HOL, you can use it...Now I will go back to showing the masses of pre-pubescent fools that haven't heard of HOL what it is about this game that just grabs you by the throat and screams...
"POUR TANG IN MY SKULL!!!"
---
What? You don't like Tang? Well me fucking either! Join the Club...
---
Ok, now I wanna talk about the loveable creatures that inhabit HOL...you know 'em...
Fucking WASTEMS!!!
Yeah, the Tapioca creatures from Hell with the lifespan of my Son's Guinea Pigs (Which isn't all that long cuz he tends to kill them "accidentally")...
What can I say? Wastems are the stupidest creature ever created, next to Flumphs © that is, but they actually come in handy. Like, when you need to just get someone the hell away from you (perhaps Leigh?), you can just whip one of these creatures of foo at them for mega bonus nuggets all around!!! (Right Sean?)...Nuff Said!
---
---
Oh yeah, here's a Finger Sandwich for YOU, Josh
---
WHOA! You guys gotta go get the new supplement for HOL...it fucking Rocks! and is aptly named:

[Shameless Plug ->] and its only $9.95 (or Free with the five-finger discount)...inside is some great shit, including all the fucking charts you ever wanted to determine character generation on HOL...
---
Ok, now for the nitty gritty shit you actually called this page up for...That's right, Stuff!!! By stuff, I mean some information that will enable you to play HOL more frequently and easily, cuz as we all know, the rulebook is so fucked up and you can't read half the shit they wrote in it, and there's no index and the charts are screwy and it just all makes your skull throb like so many fire ants are crawling in your ear to nibble away at the mass of shit in your head you call a brain...
---
Player Characters - These are some of the shitheads that stick forks in toasters that I play with.
---
---
Equipment Spotlight...
This right here below, is the best weapon in the game...here are it's stats, etc.
Anguish/Damage: 6/5
Shootin' Bonus: -1 (Hey, did you ever try to Throw a Live Cat? (Scratch!))
Range: Thrown or Walk ("Nice Kitty, Go Home, Nice Kitty!")
Blast Radius: 15' radius
Size of Hole it would put in Country-Western Singer Slim Whitman: D
Clip Capacity: 1
Cost in Confederate Chits: 12 chits
Dump Technician Bribe to find you one: A Kitty Cat, some Dynamite and a Clock
Modifier on "You Lose" Chart: -1
The "Kitty Kitty Bang Bang" pictured above is found in Buttery Wholesomeness...
---
---
Ok, here's the deal, I hope that everyone enjoys this web page, and for you who really like it, I need a job...I am a recent graduate (May 18th) and the job market doesn't look great...so, just let me know if you hear anything... mlitchfield@juno.com
---
Thanks ultimately goes to the Black Dog Game Factory, an affiliate of White Wolf...My players and I thank them for their hard work and effort in bringing a quality game that we can all enjoy, especially when we get sick of that game that sounds like "Truncheons & Flagons." Keep up the good work!!!
---
You are HOL Loser #: